Hytera, a leading global provider of innovative Professional Mobile Radio (PMR) communications solutions, supports the UNICEF Charity Run 2018, hosted by the Hong Kong Committee for UNICEF (UNICEF HK) at Hong Kong Disneyland Resort, on November 25th. This has been the fifth consecutive year for Hytera participating the event since 2014.
The organizing team was using Hytera PD368 during the event.
Mrs Carrie Lam, the Chief Executive of the Hong Kong Special Administrative Region, Mr Henry Tang, UNICEF HK Honorary Adviser, Ms Judy Chen, Chairman of UNICEF HK, Mr Wong Kam-po, UNICEF HK Ambassador and over 13,000 runners, including professional runners, elite athletes, KOLs, business leaders, individual runners, and families, showed their support for UNICEF's 'For every child, end AIDS' global campaign. Hytera local team and its partner Unicom also attended the event.
Mrs Carrie Lam, Mr Henry Tang, Ms Judy Chen, Mr Wong Kam-po and other guests were cheering for runners at starting point.
As a long-term partner of UNICEF HK, Hytera continued to provide two-way radios to meet the communication requirements of onsite operation team this year. The working group communicated efficiently, kept online of the latest information, and quickly allocated resources. "Joining the annual Charity run has a special meaning for us, we are proud to participate in the well-organized event which our two-way radios can help with the heavy security work and huge traffic pressure," said Sam Cheung, Sales Director of Unicom Technology, Hytera's local partner in Hong Kong and Macau.
To keep communications flowing, Hytera's accessories, including Bluetooth and covert earpieces, keep staff in the loop.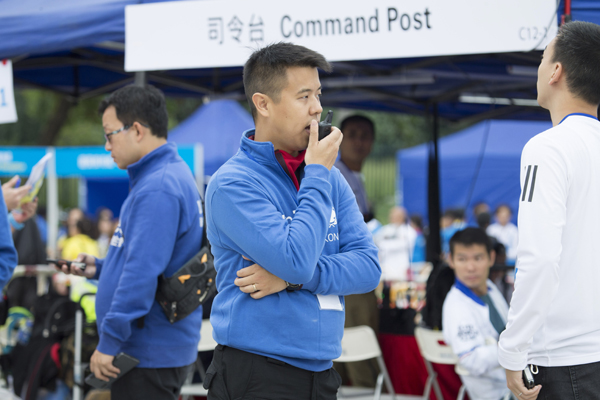 Staff at the command post
Security guard at the starting point
Hytera is committed to fulfilling its social responsibilities by leveraging cutting-edge technology and product portfolio to support public safety on a global scale. Hytera played an active role in providing support to emergency response efforts such as the Japan Tsunami in 2011, the Nepal Earthquake in 2015, floods in Myanmar in 2016, Hurricane Harvey in Houston, Texas in 2017, Laos Dam collapse, Lombok earthquake and Central Sulawesi earthquake and tsunami this year.
Wilson Hu (middle), General Manager Assistant of Hytera Overseas Sales Central Department, represented the company to accept the trophy in the Souvenir Presentation Ceremony before the race.
About UNICEF Charity Run
The UNICEF(United Nations International Children's Emergency Fund) Charity Run was organized by the Hong Kong Committee for UNICEF (UNICEF HK) and supported by Hong Kong Amateur Athletic Association. The Run is celebrating its 13th anniversary since its inception in 2006. It is not only an annual flagship fundraising event for UNICEF HK, but also the only charity race in Hong Kong sanctioned by HKAAA & AIMS.
The event includes the 3km Fun Run, 5km Run, 10km Run and Half Marathon and has received overwhelming support from the public every year. This year, over HK$11 million is aimed to raise for UNICEF's global campaign 'For every child, End AIDS'. The proceeds are dedicated to the prevention of mother-to-child transmission of HIV, enabling every child to grow up AIDS-free.